10/5/2017 7:00:00 PM
Berkeley Art Museum and Pacific Film Archive
2155 Center St.
Berkeley

Full: Orchestra Di Pazzi

Programmed by Sarah Cahill

Orchestra Di Pazzi is a large improvising orchestra created by Scott Amendola to explore various combinations of musicians on a large scale, creating new musical textures for each unique performance. For this show, the ensemble includes Scott Amendola (director, drums/electronics), Aurora Josephson (voice), Fred Frith (guitar), Crystal Pascucci (cello), Christina Stanley (violin), Ben Goldberg (clarinet), Phillip Greenlief (saxophone), Jon Raskin (saxophone), Karl Evangelista (guitar), Bruce Ackley (saxophone), Rob Sudduth (saxophone), Kasey Knudsen (saxophone), Jason Hoopes (electric bass), Zachary James Watkins (guitar/electronics), and more.
---
10/6/2017 8:00:00 PM
The Back Room
The Back Room
1984 Bonita Ave.
Berkeley, CA

Well, here we are. Just another day in creative music land. The Back Room in Berkeley is simply the best small venue in the East Bay for listening to live music. We love to play there, and to have Sam Rudin sit in on piano.
Original, creative, and singable, we celebrate our forthcoming second CD, "Bump This On The Regular". Reckless deep grooves, incendiary guitar, and spontaneous happiness. The Actual Trio is John Schott, guitar, Dan Seamans, bass, and John Hanes, drums.
---
10/22/2017 7:30:00 PM
SIMM Series @ The Musicians Union Hall
116 9th St @ Mission
SF

7:30 pm Joseph's Bones - "Avant Dub Instrumentale"
Jason Levis - drums, compositions, Rob Ewing, Scott Larson, Danny Lubin-Laden - trombone, Beth Schenck - alto sax, Jonathan Seiberlich - tuba, Dillon Vado - Vibraphone and Percussion
Myles Boisen, John Finkbeiner, John Schott - Guitar, Lisa Mezzacappa - bass
8:30 pm Trouble Ensemble
Ernest Larkins, voice, Mia Bella D'Augelli, violin
Rent Romus and Joshua Marshall, saxophones, Jakob Pek, guitar
Andrew Jamieson, piano, Tim DeCillis, drums

Josesph's Bones is to King Tubby as Helmut Lachenmann is to musique concrète. Bringing the electronic sound-transformation processes of Jamaican dub to an acoustic setting, Joseph's Bones pulls the thread between visceral groove and abstract sonic suspension.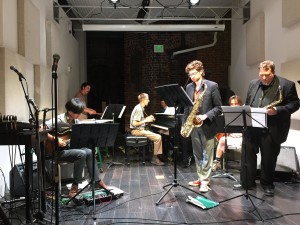 "Wade in the water, God's gonna trouble the water"
Throughout their history, the spirituals have illuminated the spiritual force that "troubles" the "waters" of injustice and oppression, using the power of African and African American music and spirituality. Originally, songs of black American slaves, they are rooted in song, dance and drumming of West Africa, the experience of oppression of an uprooted people, and the teachings of a transformative faith. They "troubled" the oppressive teachings of their society, and their message and tradition continue to "trouble" unjust systems today.
?Looking to the tradition of composers and experimenters like Sun Ra, Charles Ives and Pauline Oliveros, contemporary musicians "trouble" the musical establishment and its conventions as they envisioned radical new ways of making and listening to sound. Their traditions are a separate musical "voice" from African American spirituality and the two voices cannot merge into one. They can, however, have a conversation in a musical setting. Trouble Ensemble will creates large group conversation. We perform arrangements of spirituals, where we present a melody, rhythm and text derived from the tradition, along with jagged harmonies, unusual timbres and free improvising.
On this set, we will be featuring brand new arrangements in preparation for our first album, coming next year.